(Oh, I had both those Barbies and the youngest brother, Jimmy. WTF was wrong with me?)
About a week ago I turned 40 …
I was telling a friend that I'd totally trade in my Gen X status for that of a 30 year old hipster who wears black rimmed glasses (yet has no prescription)… Then I wouldn't have to admit that I spent most Saturday nights of my childhood hoping beyond hope that Charo would be the surprise guest on The Love Boat or that somehow Shari and Lambchop would find themselves in an eerie episode of Fantasy Island where Shari was the puppet. (What, I'm the only one who wished for that story line? I think not.)
No, I wouldn't know a ton of things about pop culture, big hair, or bad TV, had I not been a poster child for Generation X. Things like this:
1. I wouldn't recall the Facts of Life before Edna's Edibles burned down and Cloris Leachman took over. I'd say, "Who's Mrs. Garrett?" and "Tootie on roller-skates, really? I don't think so."
2. I wouldn't know what it would be like to get up to change the channel on the television set or how to adjust bunny ears. (For those non Gen Xers, "bunny ears" is not a photobomb technique.)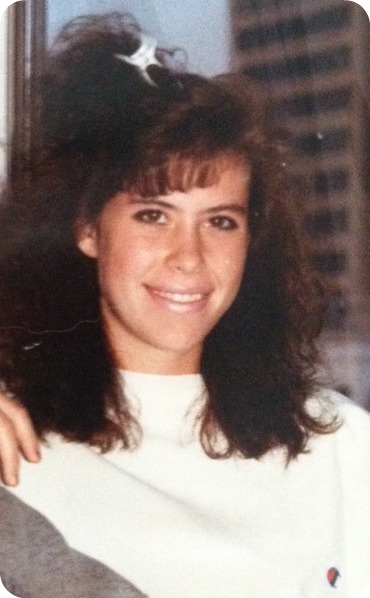 3. I wouldn't know how incredibly ridiculous and large, I mean gorgeous, my hair could look by spraying my bangs to the ceiling and simply adding an over-sized scrunchie or clip on the top of my head, or an attractive horse mane-creating banana clip to the back of my hair, or how to weave my own ribbon barrettes à la Olivia Newton John in Xanadu.
4. I certainly wouldn't have learned most of what I know about grammar, science, math and history from School House Rock. To this day, I can tell you who invented the cotton gin, why 3 is a magic number and how our nervous system is like a telegraph line. I'm also fairly certain the Great American Melting Pot is an actual stew made by the Statue of Liberty.
5. Nor would I know what a Yuckmouth is, what to do when I "hanker for a hunk a cheese" or how not to drown my food in ketchup or mayo or goo.
6. I wouldn't have diligently listened to Casey Kasem count down the weekly hits while praying Bananarama, Debbie Gibson or The Bangles would take the number one spot (and not have been ashamed to admit it).
7. I wouldn't know the joy of waking up at 6AM on Saturday morning to catch The Super Friends and wishing there would be a storyline that included one of the random heroes or villains. You know like, Apache Chief, Plastic Man, Mxyzptlk or Bizarro. (Did anyone else think Wonder Woman was hooking up with Aquaman?)
8. Plus, I don't think I would've made it through adolescence without "One to Grow On" or "After School Specials." Frankly, without the likes of Mr. T, David Hasselhoff, Kim Fields or Punky Brewster telling me not to steal or cheat or throw up after meals — I don't know that I would've turned out OK.
9. I wouldn't know from Corey Apple, Adam Bomb or Sy Clops.
10. I wouldn't know the excitement over getting a brand new Brother Word processor (you could type an entire sentence at a time, I kid you not – goodbye white-out).
11. I would have never annoyingly used the phrases and terms: "Where's the beef," "Barf me out," "No Duy," "Tubular," "Faced" (as in, "You got faced") or like the word "like" every like other word in like a sentence. (All to my mother's dismay.)
12. I wouldn't have been able to watch (while pretending to be asleep) Eddie Murphy sing "Unce, tice, fee times a mady," or teach me the word "scum bucket." I wouldn't know why Mr. Bill screamed "Oh No," or why it 'tis better to look good than to feel good.
13. I probably wouldn't have owned a rainbow assortment of EGs, that we all know were beyond perfection with a pair of simple Keds, or awesome Reebok hightops, or fancied up with a glorious pair of shoe boots!
14. I wouldn't have attempted to do the flash-dance quick-toe-tap and hair swing while wearing leg-warmers and a splatter painted, off the shoulder sweatshirt for my 4th grade talent show. (Oh, if I could erase that day! Alas, I cannot — years of therapy says so.)
15. I wouldn't know what it's like to use my allowance to buy the Beastie Boys License to Ill album (as in LP), and play it on my awesome record player with mono AND stereo… nor would I understand how speakers were also furniture… mine were used as makeshift bedside tables.
16. I wouldn't know the feeling of getting a Cabbage Patch Kid after being on a wait-list at Caldor that felt like an eternity — and not even being able to pick the one I got, but loving her/him nonetheless. Extra points if you can remember the name, mine was Mitzy Shirley.
17. I wouldn't be able to wow my children with my awesome dance moves including: The Running Man, the Roger Rabbit, the Cabbage Patch, the MC Hammer, the Robot, the Sprinkler, the Shopping Cart, the Walk the Dog … Oh, I'm goooood.
18. And those references to winding cassette tapes with a pencil that you see on Facebook — I'd see them as meaningless graphic designs to be silk-screened onto a tee shirt. 
Shit, did I age myself saying silk-screened?
I meant iron-on.
No?
Glitter decal?
Still no?
Acid washed? Stone washed? Distressed?
Getting better?
Organic? Composted? Made from hemp… green coffee… some material that wicks sweat?
Fine. I can't fool myself or anyone else, and when I look back at all the crap I got to enjoy, I kinda don't want to. So, I'll embrace it!
Gen Xers are like totally awesome…

Happy 40th to ME!
PS Am I the only one who remembers this shit??? Test me: What wouldn't you remember?
BE AWESOME, LIKE THIS POST AND JOIN ME ON FB

BE "AWESOMER," TAKE ME SHOE SHOPPING!
POSTS YOU'LL TOTALLY RELATE TO:
Don't miss the humor, sign up for notifications … (I promise not to hock Viagra):